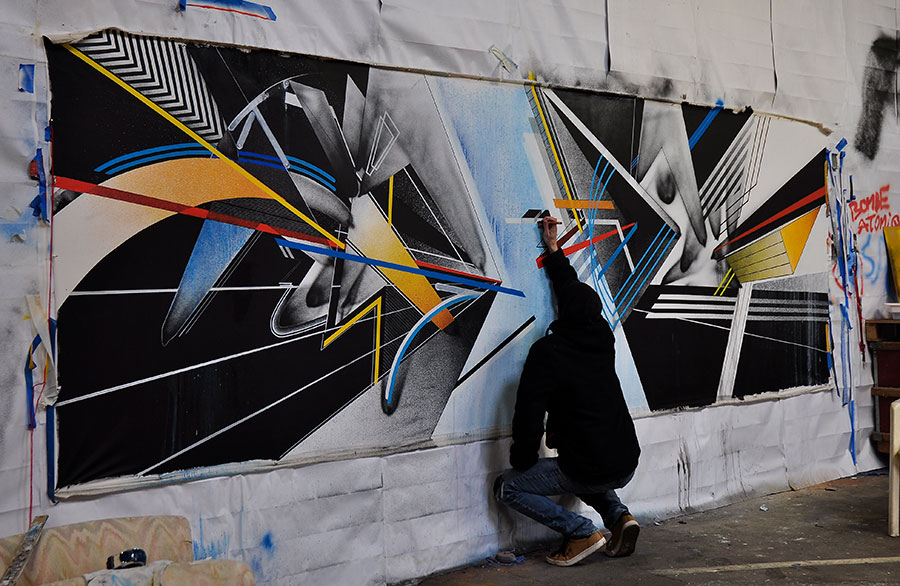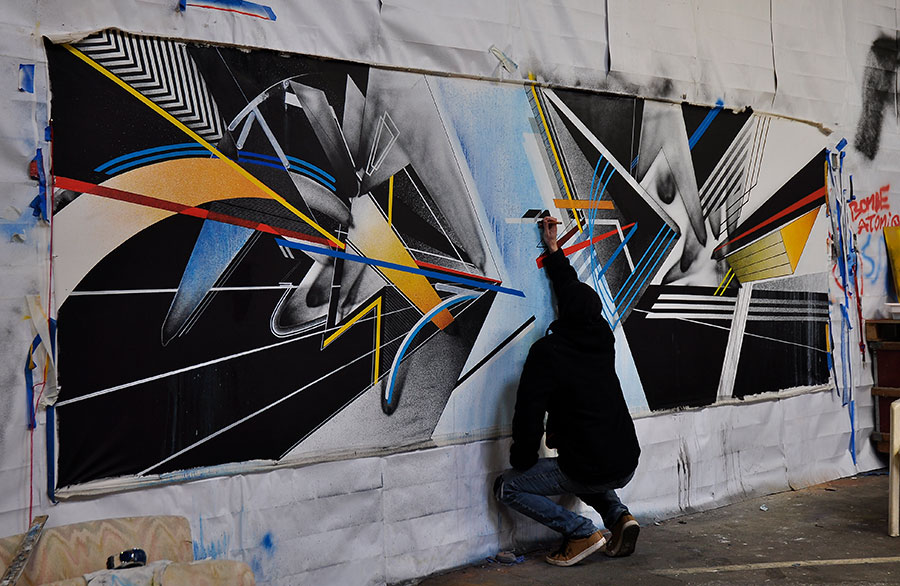 ---
Gilbert1 was born in Epinal (France) in 1980. He has exhibited and painted in Paris, Lyon, St Etienne, Marseille, Stuttgart, Rome, Barcelona, New York, San Jose, Los Angeles, San Francisco or even Berlin. He now lives in Nancy.
Coming from the graffiti scene (which he started in the early 2000s), he rolls out his art from wall to web, from photography to installations, from sculpture to painting. This remarkable, multidisciplinary self-taught artist has found how to go beyond reality that affects him and a society he cannot understand, by using all tools and mastering all techniques. His fragile looking works depict the torments inside, while his source materials betray their violence. Yet his vivid colours convey hope.
While all seems to be chaos, Gilbert1 meticulously rebuilds, repaints and fixes matter and materials. He reinvents and uses the objects that riddle his quest, while colouring, installing and positioning them. He turns them into frail sculptures, monumental paintings or obvious installations (like that produced in 2012 for the Bains Douche artistic residence in Paris).
He claims to be in love with Mathieu's gestures and influenced by the work of Miro, Tapies and Picasso. He is a child of Raw Art, attached to « graffuturism », Gaudi's architecture and the works of Georges Rousse. Yet Gilbert1 is above all inspired by the places he visits (where he still paints and holds artistic residence) and by the history that marks the man and his time. By the architecture he explores and the streets he contemplates. He turns his colours into a tool. He does not fill in or hide, he reveals. Keenly attached to the real-life experience of his finds, he extracts their essence, diverts their meaning and gives them new life.
Carton, wood and paper form the framework for his works in volume. Manuscripts, scrap metal, colours and transparencies give them resonance. He aptly uses each element. He extracts the qualities and defines a harmony from them. He preserves its real-life experience. So the nail is still rusty, the leaf curled, the stick broken, the colour preserved. But he sticks back together, juxtaposes and reassembles them with talent. Extremely meticulous, he positions each piece in his perfect domino, determines its point of leakage and seeks the impending rupture in it. Yet avoided, thwarted, misled, it reveals a work placed in an impressive equilibrium.
It is probaby this mastery that we find so touching in Gilbert1's sculptures. In the minuscule pieces of souls they carry that he has successfully preserved. In his ingenuity in combining them. In the warmth they emit, their natural or cleverly arranged colours. And whereas they look so fragile to us, composed equally of blank and filled spaces, as if made of nothing, when they leave his hands they transform the chaos into magnificent harmony.
Transposed on the flat surface of a clear Perspex display case, they only seem more precious. When hung they appear impertinent and overturn the nobility (now archaic) of a traditional painting. They become the temple of remnants when positioned.
His drawings composed of black and white are all delicacy and meticulousness. Inherited from his calligraphy, he draws confidently and precisely. His love of base materials stems from his silk-screen work. A flow, an undulation and a sense of reading comes from the graffiti. He plays with ambivalences: A sketched line counters the pointillism of a jet of spray. To a curve, its diagonal. To the black, its white. So he throws, portrays, produces in a few lines his bright, leaping, powerful and controlled movement.
« He who masters the line, will achieve perfection in each of his arts » said the Italian painter and architect Vasari (1511-1574). Who better than Gilbert1 to be his disciple?
Gilbert1 builds as much as he paints. Harmonizes as much as he reveals. Juxtaposes as much as he deconstructs. Experiments continually, making a perpetual quest personal. Puts his slightest skill to the test again, in every gesture. His work is all the more sensitive and touching for this. His talent is obvious. He transports and questions us. He shocks us, but never with any aggressiveness and without ever imposing himself.
Valériane Mondot
---

SOLO EXHIBITIONS / PROJECTS

2021
Château de Montaigu, Laneuvevile-devant-Nancy (France)
2020
Centre Pompidou/Emmaus Solidarité – Floor painting, Paris (France)
Le MUR Nancy, Nancy (France)
Corner Galerie, Epinal (France) – Géométries Variables
2018
Le M.U.R, Auber, Paris (France)
Musée Lorrain, Nancy (France)
Mirus gallery, San Francisco (Usa) – Never ending fall
2017
Artistik Rezo gallery, Paris (France) – World of illusion
Musée des Beaux Arts, Nancy (France)
2016
GCA gallery, Nice (France) – Out of control
2015
Punto618 Art gallery, Turin (Italia) – Falling to pieces
Artsuggest.com – Fragile
2014
Le M.U.R, Paris (France)
Helene Bailly gallery, Paris (France) – Extracted from Chaos
Bora Baden gallery, Nancy (France) – In situ
2013
Stroke Art Fair, Berlin (Germany) – Helene Bailly gallery
2012
La Friche gallery, Paris (France) – No Borders
---

GROUP EXHIBITIONS / PROJECTS

2021
Lausanne Art Fair, (Swiss) – Orlinda Lavergne gallery
Galerie Wagner, Paris (France) – Trésors de papier #2
2020
Anno Domini gallery, San Jose (Usa) – 20th Anniversary group exhibition
Quai 36 – Ancienne Poste, Versailles (France) – Réenchanter la ville
Art Paris Art Fair – Grand Palais, Paris (France) – Galerie Wagner
Galerie Wagner, le Touquet (France) – Un dimanche à la galerie
Galerie Wagner, Paris (France) – In/Off
Orlinda Lavergne Gallery – Collective
2019
Galerie Wagner, Paris (France) – Faisons le mur
Gand Artfair, Ghent (Belgium) – Orlinda Lavergne gallery
Galerie Wagner, le Touquet (France) – Trésors de papier
Urban Art Biennale – Völklinger Hütte, Völklingen (Germany)
Urban Art Fair – Carreau du Temple, Paris (France) – Artistik Rezo
Art Paris Art Fair – Grand Palais, Paris (France) – Galerie Wagner
Art Up – Grand Palais, Lille (France) – Happy gallery
Galerie Albert Bourgeois, Fougeres (France) – Hello my name is (V. Mondot)
2018
Art Elysées Art Fair, Paris (France) – Galerie Wagner
Scope Art Fair, Basel (Swiss) – Orlinda Lavergne gallery
Mirus gallery, Denver (Usa) – Grand opening
Happy gallery/Kolly gallery – Espace Oppidum, Paris (France) – Swiss watches
Artcurial, Paris (France) – Urban Art auction
2017
Art Elysées Art Fair, Paris (France) – Galerie Wagner
Mirus gallery, San Francisco (Usa) – Mirus gallery 5 Year Anniversary
Antwerp Art Fair, Antwerp (Belgium) – Orlinda Lavergne gallery
Galerie Wagner, le Touquet (France) – Intersections
Popartiserie, Stasbourg (France) – Abstract World
Galerie Wagner, le Touquet (France) – Couleurs plurielles
La Lune en Parachute, Epinal (France) – Manifeste Urbain
Artcurial, Paris (France) – Urban Art auction
Urban Art Fair – Carreau du Temple, Paris (France) – Artistik Rezo
La Compagnie, Paris (France) – Kromacity
2016
Luxembourg Art Fair (Luxembourg) – Orlinda Lavergne gallery
Art42 Urban Art Museum, Paris (France)
CAFA Beijing Museum, Beijing (China) – Street Art, a global view – Magda Danysz gallery
Orlinda Lavergne gallery, Mulhouse (France) – Ô Gravity
Performance Le M.U.R. Mulhouse, Mulhouse (France)
Ballet de Lorraine, Nancy (France) – Performance LAB/Salon
LED, Thionville (France) – Residence
2015
Home Two project, Charlevilles-Mézières (France) – Residence/collective exhibition
Big Jam event, Nancy (France)
Helene Bailly gallery, Paris (France) – Carré rive gauche – Metamorphoses
Villette Street festival, Paris (France) – Urban Art to the profit of Emmaus
886 Geary gallery, San Francisco (Usa) -Graffuturism 5 years
Artcurial, Paris (France) – Urban Art auction
2014
ST.ART – Art fair, Strasbourg (France) – Collection Si particulère
Helene Bailly gallery, Paris (France) – (De)Construction
Institut Culturel Bernard Magrez, Bordeaux (France) – Expressions Urbaines
Maison des Arts de Créteil, Créteil (France) – Arts Urbains Collection Nicolas Laugero Lassere
La Plomberie, Epinal (France) – Contemporary Art biennale
GCA gallery, Nice (France) – Made in France
Walls gallery, Amsterdam (Netherlands) – Shifting perspectives
Molitor hotel, Paris (France) – Magda Danysz gallery
Home project, Toul (France) – Residence/collective exhibition
Helene Bailly gallery, Paris (France) – Collective
1AM gallery, San Francisco (Usa) – A Major Minority
Artcurial, Paris (France) – Urban Art auction
2013
Collection Si Particulière, Metz (France) – Street Boulevard
Neuf gallery, Nancy (France) – Projet Dièse
Mirus gallery, San Francisco (Usa) – Geometry of chance
Magda Danysz gallery, Paris (France) – Les Bains résidence artistique exhibition
ENSBA, Paris (France) – Performance Speed Painting – Magda Danysz gallery
Helene Bailly gallery, Paris (France) – Collective
Openspace gallery, Paris (France) – Graffuturism Paris
Art Paris Art Fair – Grand Palais, Paris (France) – Helene Bailly gallery
Magda Danysz gallery, Paris (France) – Résidence artistique aux Bains
2012
Soze gallery, Los Angeles (Usa) – Graffuturism
Open air museum « The Broken Project », Nancy (France)
2011
Anno Domini gallery, San Jose (Usa) – Fresh Produce exhibit
Espace Confluences, Paris (France) – Give me a wall festival – Inside film
Chappe gallery, Paris (France) – Inside film
2010
Anno Domini gallery, San Jose (Usa) – Fresh Produce exhibit
Parc Chanot, Marseille (France) – Urban Art auction

2009
La Lune en Parachute, Epinal (France) – 400ml
Maison des Metallos, Paris (France) – 400ml
Parc Chanot, Marseille (France) – Urban Art auction

2008
Epernay (France) – Collective performance – Habits de Lumière festival
Trinitaires, Metz (France) – Exhibition/performance – Zikametz festival
2007
Société des Arts du Forez, St Etienne (France) – Iemza/Gilbert1 Produits 100% fibres organiques
Artwist gallery, Paris (France) – L'esprit du mur