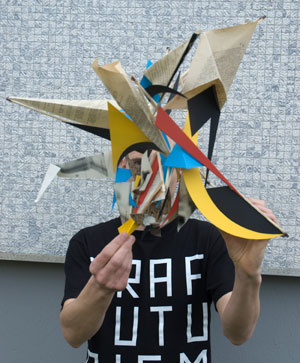 Gilbert1 was born in 1980 in Epinal (France). He lives and works in Nancy.
Using the walls of hi own town, Nancy, as a place of self expression, as well as Paris, Lyon, Barcelone, Rome and New York, Gilbert1 is an artist who, after practicing calligraphy and typography for a long time, is now focusing on the appropriation of abandoned places which he transforms into spaces for artistic expression. Taking the existing architecture as a starting point and working with materials found on the spot, Gilbert1 breathes life back into them through an interplay of colours and geometric elements that bring forth new perspectives.
After Home Sweet Home (Reims, 2010), he realised Inside a stop motion film (Nancy, 2009-2011), took part in the Mausolée project (Paris, 2010-2012), and realised The Broken Project (Nancy, 2012), an open air museum on 1200m2 of walls. For the project To Build a home (2013), he modified the external appearance of an architect's house, then during his residency at the Bains Douches (2013), he made an installation in the warden's lodge. For each of his interventions, he enters into osmosis withe the place, whose spirits he respects.
His gallery works are in the image of his in situ interventions. By creating a huge installation inside the Bora Baden gallery in Nancy (2014), he created a link between in his outdoor and studio work. Extracted from chaos his first solo show in Paris is a chance to discover works an paper and on canvas, as well as sculptures and assemblages that are typical of his practice. Poesia, a theorist of the Graffuturism movement, sees Gilbert1 as a representative of this new generation of artists who « live and breathe art in everything they do ». He also plays an active role in group projects (Home, Toul, 2014), numerous exhibitions and art fairs all over the world, including the big event A Major Minority, which was attended by around a hundred Graffuturism artists in San Francisco (2014).
Text by VALDAN
/////////////////////
/////////////////////
/////////////////////
SOLO EXHIBITIONS

2017
Artistik Rezo gallery, Paris (France) – World of illusion
Musée des Beaux Arts, Nancy (France)
2016
GCA gallery, Nice (France) – Out of control
2015
Punto618 Art gallery, Turin (Italia) – Falling to pieces
Artsuggest.com – Fragile
2014
Performance Le M.U.R, Paris (France)
Helene Bailly gallery, Paris (France) – Extracted from Chaos
Bora Baden gallery, Nancy (France) – In situ
2013
Stroke Art Fair, Berlin (Germany) – Helene Bailly gallery
2012
La Friche gallery, Paris (France) – No Borders
GROUP EXHIBITIONS
2017
La Lune en Parachute, Epinal (France) – Manifeste Urbain
Artcurial, Paris (France) – Urban Art auction
Urban Art Fair – Carreau du Temple, Paris (France) – Artistik Rezo
La Compagnie, Paris (France) – Kromacity
2016
Luxembourg Art Fair (Luxembourg) – Orlinda Lavergne gallery
Art42 Urban Art Museum, Paris (France)
CAFA Beijing Museum, Beijing (China) – Street Art, a global view – Magda Danysz gallery
Orlinda Lavergne gallery, Mulhouse (France) – Ô Gravity
Performance Le M.U.R. Mulhouse, Mulhouse (France)
Ballet de Lorraine, Nancy (France) – Performance LAB/Salon
LED, Thionville (France) – Residence
2015
Home Two project, Charlevilles-Mézières (France) – Residence/collective exhibition
Big Jam event, Nancy (France)
Helene Bailly gallery, Paris (France) – Carré rive gauche – Metamorphoses
Villette Street festival, Paris (France) – Urban Art to the profit of Emmaus
886 Geary gallery, San Francisco (Usa) -Graffuturism 5 years
Artcurial, Paris (France) – Urban Art auction
2014
ST.ART – Art fair, Strasbourg (France) – Collection Si particulère
Helene Bailly gallery, Paris (France) – (De)Construction
Institut Culturel Bernard Magrez, Bordeaux (France) – Expressions Urbaines
Maison des Arts de Créteil, Créteil (France) – Arts Urbains Collection Nicolas Laugero Lassere
La Plomberie, Epinal (France) – Contemporary Art biennale
GCA gallery, Nice (France) – Made in France
Walls gallery, Amsterdam (Netherlands) – Shifting perspectives
Molitor hotel, Paris (France) – Magda Danysz gallery
Home project, Toul (France) – Residence/collective exhibition
Helene Bailly gallery, Paris (France) – Collective
1AM gallery, San Francisco (Usa) – A Major Minority
Artcurial, Paris (France) – Urban Art auction
2013
Collection Si Particulière, Metz (France) – Street Boulevard
Neuf gallery, Nancy (France) – Projet Dièse
Mirus gallery, San Francisco (Usa) – Geometry of chance
Magda Danysz gallery, Paris (France) – Les Bains résidence artistique exhibition
ENSBA, Paris (France) – Performance Speed Painting – Magda Danysz gallery
Helene Bailly gallery, Paris (France) – Collective
Openspace gallery, Paris (France) – Graffuturism Paris
Art Paris Art Fair – Grand Palais, Paris (France) – Helene Bailly gallery
Magda Danysz gallery, Paris (France) – Résidence artistique aux Bains
2012
Soze gallery, Los Angeles (Usa) – Graffuturism
Open air museum « The Broken Project », Nancy (France)
2011
Anno Domini gallery, San Jose (Usa) – Fresh Produce exhibit
Espace Confluences, Paris (France) – Give me a wall festival – Inside film
Chappe gallery, Paris (France) – Inside film
2010
Anno Domini gallery, San Jose (Usa) – Fresh Produce exhibit
Parc Chanot, Marseille (France) – Urban Art auction

2009
La Lune en Parachute, Epinal (France) – 400ml
Maison des Metallos, Paris (France) – 400ml
Parc Chanot, Marseille (France) – Urban Art auction

2008
Epernay (France) – Collective performance – Habits de Lumière festival
Trinitaires, Metz (France) – Exhibition/performance – Zikametz festival
2007
Société des Arts du Forez, St Etienne (France) – Iemza/Gilbert1 Produits 100% fibres organiques
Artwist gallery, Paris (France) – L'esprit du mur